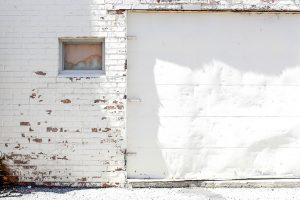 Is your garage door starting to get a warped look to it — a sort of caved-in warping that not only makes your house look more rundown, but affects the functioning of the door itself? You probably have a bowing garage door. This is a garage door repair that requires immediate attention — sooner rather than later — because it will inevitably get worse. Here's what to do if you have a warping and bowing garage door in need of repair.
What's Happening?
Your door is warping across the surface, giving it a caved-in appearance that affects the curb appeal of your entire house. The problem is apparent and obvious. The door just doesn't look right — a little off. Because the door is misshapen, it will moan and clank as you open the door. It will likely be harder to open — which puts strain on the door as well as your garage door opener. There's a chance your overhead door's opener might be in need of repair or replacement as well if the strain is significant. 
This can be a common occurrence with wooden garage doors. (Steel doors can warp occasionally — but it's rare.) Many people love wooden garage doors because of their natural appeal. But wood is extremely susceptible to differences in temperature — which can cause the door to warp. (With steel doors, rather than temperature issues, it's more likely that the door is too heavy for the opener. Consider switching to an opener that has more horsepower.)
It's Easy to Prevent a Warped Garage Door
One of the main reasons why your garage door has likely warped is because of weather damage. It's relatively easy to prevent warped garage doors if you take the necessary precautions to weatherproof your overhead door. The key is to stop moisture from seeping into the garage door. The best way to do this is to use paints and weatherstrip the door. If you have difficulty finding the right paints and seals, consult a garage door repair service. They do more than just technical repairs. There's a chance that your door is already warped, so what can you do to fix it? 
Repairing a Warping Garage Door
If you have only 1 or 2 panels that are warping, the fix is fairly simple — just replace them. That's a cheap solution as far as garage door repairs go. Consult a garage door repair company to have the door serviced in a jiffy.
But what if it's the entire door? Then you might find yourself in the market of installing a new door. If you prefer the natural appeal of wood, you could choose a new door that is a steel door underneath with wood cladding on the surface. This door will still look natural — but it won't warp.
A new garage door can be sizable investment — but it's one of the best home improvement investments you can make. A new door has about a 98% ROI because it can substantially improve the resale value of your home. That's virtually dollar for dollar. Doesn't that sound like a great investment for this year's tax return?
If you're relacing your garage door, consider purchasing and installing a new garage door opener. If your steel door has warped, it's likely because your opener wasn't strong enough to open it. The best way to prevent this issue is to find an opener for your overhead door that meets its requirement. Speak with a garage door repair service if you want to find the perfect opener for your new door.