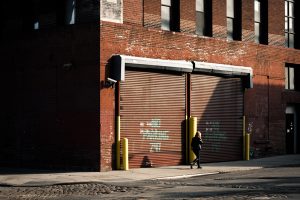 When business owners first consider commercial overhead garage doors for their businesses, they often make the mistake of assuming these doors are just like residential garage doors. This couldn't be further from the truth. A Ford pickup is in no way comparable to a semi rig. Likewise, an overhead commercial garage door simply cannot be compared to what you might have a home. These doors have special garage door repair needs. Plus, you have more options to consider when it comes to garage door installation.
The truth is many industrial or agricultural garage needs require oversized doors, which can come with bigger problems. If you need an industrial door, you will probably need a bigger model, so you'll need some advice. Fortunately, you've come to the right place. Free tips are just one of the many services we provide to the Roseville community.
Size Matters
Oversize commercial garage doors can range in sizes, anywhere from 12 x 12 ft. (3.6 x 3.6 m) to 16 x 16 ft. (4.9 x 4.9 m). But sometimes you need something bigger. (Picture a huge semi or combine‑harvester, for instance, or heck, the sky's the limit: think airplane hangar!) These doors can range anywhere from 24 ft. (7.3 m) wide and 20 ft. (6.1 m) high. But to be honest, there's really no limit.
Doors this size are not always overhead sectional garage doors, FYI. They may be installed vertically and open laterally.
You'll need to determine what components you'll need for the door. This depends on what you use the system for, how often you open the door, size and weather issues. Being smart and choosing the best components for your particular needs can minimize repair issues down the road.
When You Need an Expert
As we mentioned, these doors can be highly specialized and come with their own set of specialized problems and considerations. You need a door to be a certain height, thickness and sturdiness to tolerate weather and wind issues. Do you live in a hurricane zone? Roseville gets its share of brutal rainstorms. Will your door stand up? There are also safety issues to consider. Naturally, the bigger the door, the more dangerous it can be.
You might consider calling in a garage door expert or professional service to better hash out the details. This kind of door can be a sizable investment, so it's a good idea to get the most for your money. And be sure to choose a pro who has experience working with commercial doors.