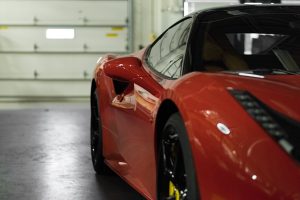 You might be surprised how big of an impact your garage door can have on your energy bill. Whether it's heat in the winter or air conditioning in the summer, heating and cooling usually make up the majority of your electricity use. If your garage is attached to the house, the type of door you have plays a big part of the heating efficiency of not only the garage but the entire home.
The good news is there are things you can do to seal up your garage. This includes sealing any windows and cracks, replacing worn out garage door bottom seals, and replacing windows with thicker glass.
If your door is worn, you might also consider installing an insulated garage door. This can do wonders for the efficiency of your garage and can have a big impact on your electric bill.
Install Better Weatherstripping
PVC weatherstripping tends to harden overtime. This leads to cracks that cause inefficiencies. You should replace your garage door bottom seal with flexible double‑lipped weatherstripping that's higher quality.
The Benefits of Insulated Blocked Wooden Doors
If you choose to install a new insulated garage door, consider the benefits of section ended blocks. These are great at keeping the insulated material where it belongs, even as the door goes up and down thousands of times a year.
Many companies use steel ended blocks, which are not very efficient. Wooden end blocks don't transfer heat as fast and are a much better insulation agent. Wood provides a much better thermal break.
Insulated Joints
How the joints are insulated has a big impact on the efficiency of your garage door. Rather than attaching sheets of steel to the insulation, you instead want a triple‑contact PVC weatherseal. This provides a thermal break that keeps the outer and inner metal from touching. There's no thermal bridge, and therefore less energy loss.
Consider R-Value
The R-Value of your garage door measures its thermal efficiency, essentially the effectiveness of its insulation. For attached garages, you'll want an R-Value of at least 12. For the best efficiency, you may want to go as high as 16. This will keep out the heat in the summer and the cold in the winter and has a bigger impact on your heating bill. It's a better way to survive Roseville summers without skyrocketing your AC bill.