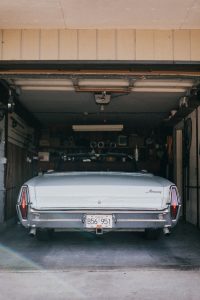 How old is your garage door opener? If you've had it longer than your NSYNC 2000 World Tour T-Shirt, it might be time for a new one. Chances are that the old opener is outdated and unsafe. In fact, technology has developed some pretty cool features in the last few years.
How a New Door Keeps Your Family Safe
The garage door is the largest entryway to your home. Plus, your garage is full of goodies — power tools, bikes, jet skies, maybe a boat. For thieves, that stuff is like candy to a baby.
Any opener before 1993 is easy to hack. That's because most use DIP switches set in either a +, 0, or – position. The neighborhood kid can probably figure out how to open it on his laptop. Perhaps this explains those missing beers and the last Fudgsicle over the weekend? Just kidding. Your wife knows that was you.
Modern openers feature rolling codes, which use up to 1 billion codes to make them virtually unhackable.
Time to Get Tech Smart
Smart garage doors make it possible to open your garage door from anywhere using your phone. This comes in handy if you have a package being delivered. The UPS guy can call you on your phone to open and close the door, so he can slip your delivery safely inside. You can also keep an eye on the door via a camera you can view from your phone. If you or the kids forgot to close the door, no problem. All it takes is the touch of a button.
Garage door openers that have come out in the last couple of years feature Wi-Fi technology. You can open and close the garage door with your voice. The age of the Jetsons is finally here!